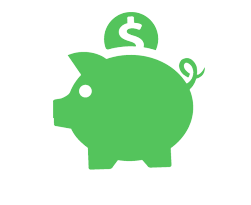 Nowadays, if you don't have a website, you are considered backwards and missing out on some serious business opportunities. Having a website allows you to tell everyone about your business, it's products and services, and why they should do business with you. If you want people to find you, and if you want people to be able to get instant access to information about your business, then it would be in your best interests to get a website up and running quickly.
InteliSystems' Budget Website is best for those who want the lowest-cost, high-converting website that can be launched in a matter of days. It can be a cost-effective way for a small local business to create a starter site without investing significant time or money.
Features
Template Based: No Custom Design/No Custom Coding
Mobile Responsive
Online Contact Form
Photo Gallery
Slider
Google Maps Integration
Social Media integration
Blog page
Calendar
Price
*Static pages only. Dynamic page such as FAQ requires additional cost
Value Added Services
Additional page:$30 per static page. (If one page is consisted of many contents like FAQ, that page is considered multiple pages.)
Additional Custom Graphic Banner: $100 per banner
Additional Language: Add $300
Lead Time: 5~15 days
Maintenance is not included.